Nectarine Muffins with Vanilla Icing
Preheat the oven to 200 °C/400 °F (180 °C convection oven). Carefully grease the cups of the muffin pan or line with paper cups.
Cut the nectarines (alternative: drained peaches from a can) into wedges. Set aside 12 wedges for decoration. Chop the remaining fruit into small pieces.
In a medium bowl, thoroughly mix the flour with the baking powder, baking soda, custard powder and fruit zest.
In another large bowl, whisk egg lightly. Then add sugar, oil or butter, sour cream, orange juice and fruit pieces and blend well. Add the flour mixture to the egg mixture and stir just until the dry ingredients are moistened.
Using an ice cream scoop, fill the batter into the cups of the muffin baking tin. Bake in hot oven at 180 °C/350 °F (convection oven 160 °C) on the middle rack for 20-25 minutes. Let the muffins rest in the baking pan for 5-10 minutes, then remove and cool well on a cooling rack.
For the decoration, in a small bowl, mix the cream cheese with butter, powdered sugar and vanilla sugar until smooth. Place the cream in a piping bag fitted with a large star nozzle and pipe onto the muffins in a spiral shape. Decorate the muffins with the fruit wedges.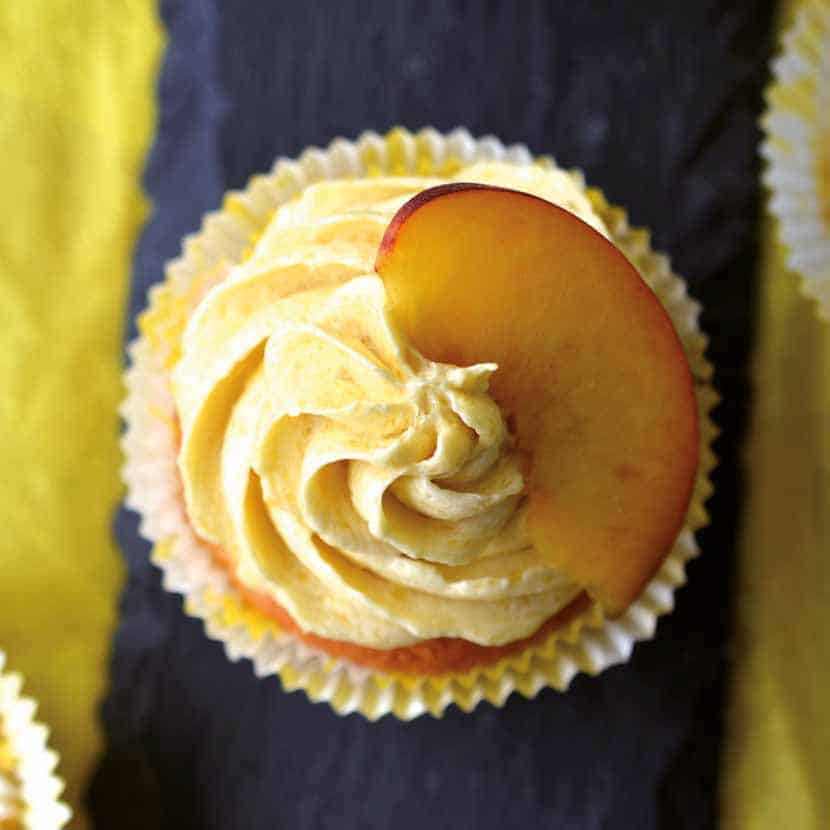 For the batter
1¾-2 cups (250 g) flour
2½ tsps. baking powder – ½ tsp. baking soda
1 package. (40 g) vanilla pudding powder
grated peel of ½ lemon
1 egg – ¾ cup (150 g) sugar
⅓ cup (80 ml) vegetable oil
or ½ cup (125 g) soft butter
½-¾ cup (150 g) sour cream
½-1 cup (80 ml) orange juice
For the dough and the decoration
5 nectarines or
2 cups/1 can (480 g) peaches
For the decoration
2 cups (600 g) cream cheese
2 TBS. soft butter – 4-5 TBS. powdered sugar
1 tsp. vanilla extract